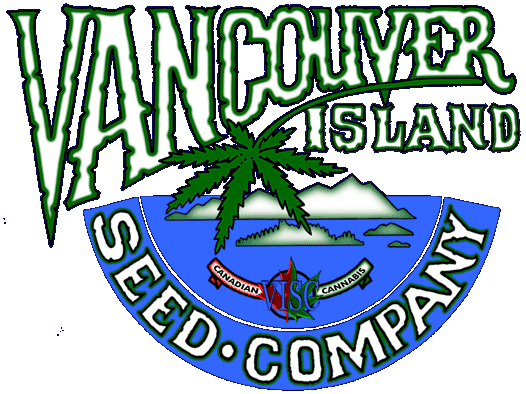 How VISC got from there to here.
It was 1972 and my oldest brother passed me a joint and said "try this it's marijuana, you'll like it";
I tried it and he was right I did like it. I've been a hardcore fan ever since. By 1975 I had an Alberta Springs
Whiskey box full of many different seeds, each type in its own baggie labeled with as much information as
I had on the seeds; Often only the name it was called and when I had obtained it. In 1975 I had my first crop in;
It was a major failure. I had 53 plants ranging from 5 to 8 feet tall and at the end of the season I had less than
an ounce of very immature bud – my first of many lesson on genetics. While discouraged I never gave up
my love of pot or my desire to grow my own.
Over the years I collected and tried hundreds of varieties, I kept notes and gathered knowledge.
  By the 80's I was growing extensively and supplying my friends with seeds that could handle our BC climate,
but I still had lots to learn.  Over the years I read – cover to cover –
GROW YER OWN STONE by Dr Alexander Sumach,
MARIJUANA BOTANY by Robert Clarke,
MARIJUANA GROWER'S GUIDE by Mel Frank and Ed Rosenthal
and of course my "bible"
INDOOR MARIJUANA HORTICULTURE by Jorge Cervantes. 
By 1991 I was supplying the seeds for many growers both indoors and out, and had a reputation as a
gourmet cannabis supplier.  My motto was then and still is today "Breeding fine Cognacs for the Mind",
I was in love with everything cannabis from growing to inhaling; I had found my niche in life.
But everything can't be perfect, there were a few people that I trusted that I shouldn't have and a few
indiscretions on their part cost me a year and a half in jail; another major lesson though not in genetics.
  Given that lesson it wasn't too surprising that when I heard of Marc Emery and the attention he was bringing to
cannabis that rather than coming out of the grow room and into the limelight I hid even more.  However
Marc did great things for the movement and by Christmas of 1998 I had a partner, a new name
"Vancouver Island Seed Company" and I had a full page ad in Marc's magazine "Cannabis Culture"
and was supplying HempBC with seed stock , see linked page.



It was at the first Cannabis Culture Cup that VISC first attracted international attention
when three of our breeds in the top seven out of sixteen breeds with
Burmese x Fucking Incredible (420) taking first place overall.



So here it is 2007 and VISC is still growing strong. We've all had some low moments over these years,
probably the lowest being the day that our government of Canada sold out our sovereignty and allowed
a foreign government to arrest our citizens.  Do not give up the struggle instead fight harder for what is right.
  I will continue to grow for as long as I live and am physically able and I will supply quality seeds so that others can as well.
It has always been my policy and continues to be VISC's that the average person should be able to grow the breeds
we produce or we're not doing our job correctly.  YOU can grow our seeds indoors and out and you will produce
a crop to be proud of even with no special elixirs or ultra expensive fertilizers.  Towards that end we
personally test each breed before a single seed has been offered to the public.
While we at VISC have always maintained this test before sell policy, in the past I have been criticized
for using special methods and means to produce elevated results and so over the past few years we've tested
our breeds using only products that one can buy almost anywhere to provide a benchmark that anyone can achieve.
  We currently use Miracle-Gro brand of All Purpose and Ultra Bloom as fertilizers and EndAll for the control of
pests such as spider mites during our grow trials.  All the end-user needs is a little gardening knowledge and a
little common sense to produce gourmet weed they can be proud of.
Simply put, in two gallons of soil you can expect a return of between one to four ounces of weed depending on
the variety using the aforementioned products; I have seen three pounds produced off of one of our plants grown
in three cubic yards of soil and using a top grade fertilizer and bud enhancer.  In my opinion weed tastes best when
grown in soil, using as natural growing techniques.  You have my word; we're breeding fine cognacs for the mind
that you can grow.